No War ━ Hope for a Peaceful Future ━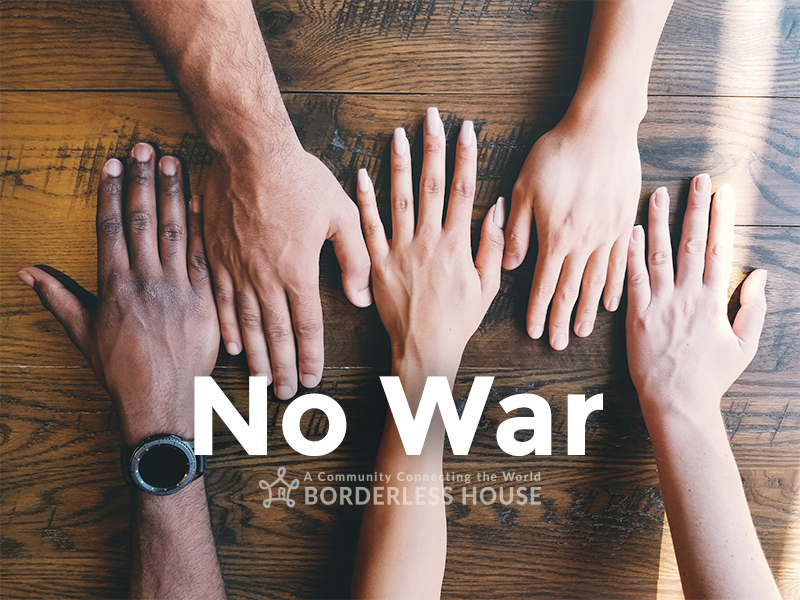 The Russian military invasion of Ukraine began on February 24, 2022.
We at BORDERLESS HOUSE believe that fostering mutual understanding across national boundaries is the key to sowing the seeds of peace and deterring conflict in the world, and we have nurtured a business that provides a place for international exchange.
Since the start of our business in 2008, more than 10,000 young people from 111 countries have lived together at BORDERLESS HOUSE and fostered mutual understanding. Of course, there are many Russian and Ukrainian residents among them.
While there are various ideologies, value systems, and ways of defending one's country, the fact is that these clashes are now taking place in the form of war. Many innocent people are suffering. We are speechless when we think of the peo[;e who must be suffering in this situation.

I am absolutely against the use of force and war for any reason. "No War"

Our hearts go out to all those who have suffered from this tragedy, and we only hope that peace will come as soon as possible.
What we can do.
Amidst the worsening situation and social unrest, the government's border control measures against the COVID have been lifted and allowed foreign students, who had long been denied entry to Japan, to resume their studies in Japan, and many of them will return to live in Japan as foreign citizens. Although it has only been a few days since the ban was lifted, we are grateful to have received many requests from international students who want to live with various people in Japan.
We, BORDERLESS HOUSE, will continue to nurture our business more wholeheartedly for the realization of a society where foreign citizens can live in peace, and where people with different upbringings, backgrounds, and values can live together peacefully.
This may sound like mere idealism in the face of the tragedies happening in the world today. Some may think it is meaningless because of how little we can do.
Nevertheless, we at BORDERLESS HOUSE believe that we, the citizens of the world, rather than the leaders of governments and countries, should be the ones to continue to nurture the bonds of friendship that transcend national boundaries, and that this is a sure step toward world peace. We will continue to work on this.
We will continue to work for a peaceful future.
Above all, we express our condolences for all the lives lost in this conflict and sincerely hope that no more precious lives will be sacrificed.
Borderless House
Representative - Seiichi Lee
All staff members

Lastly, I would like to share with you our activities for "Ukrainian Refugee Admission" initiated by NPO WELgee, a partner of BORDERLESS GROUP.

Seven actions that Japan can take to help refugees from Ukraine
https://www.change.org/voice4ukrainian_refugees