A new large-scale international share house, coexisting with the locals, opens March 2017 in Kamigamo, Kyoto!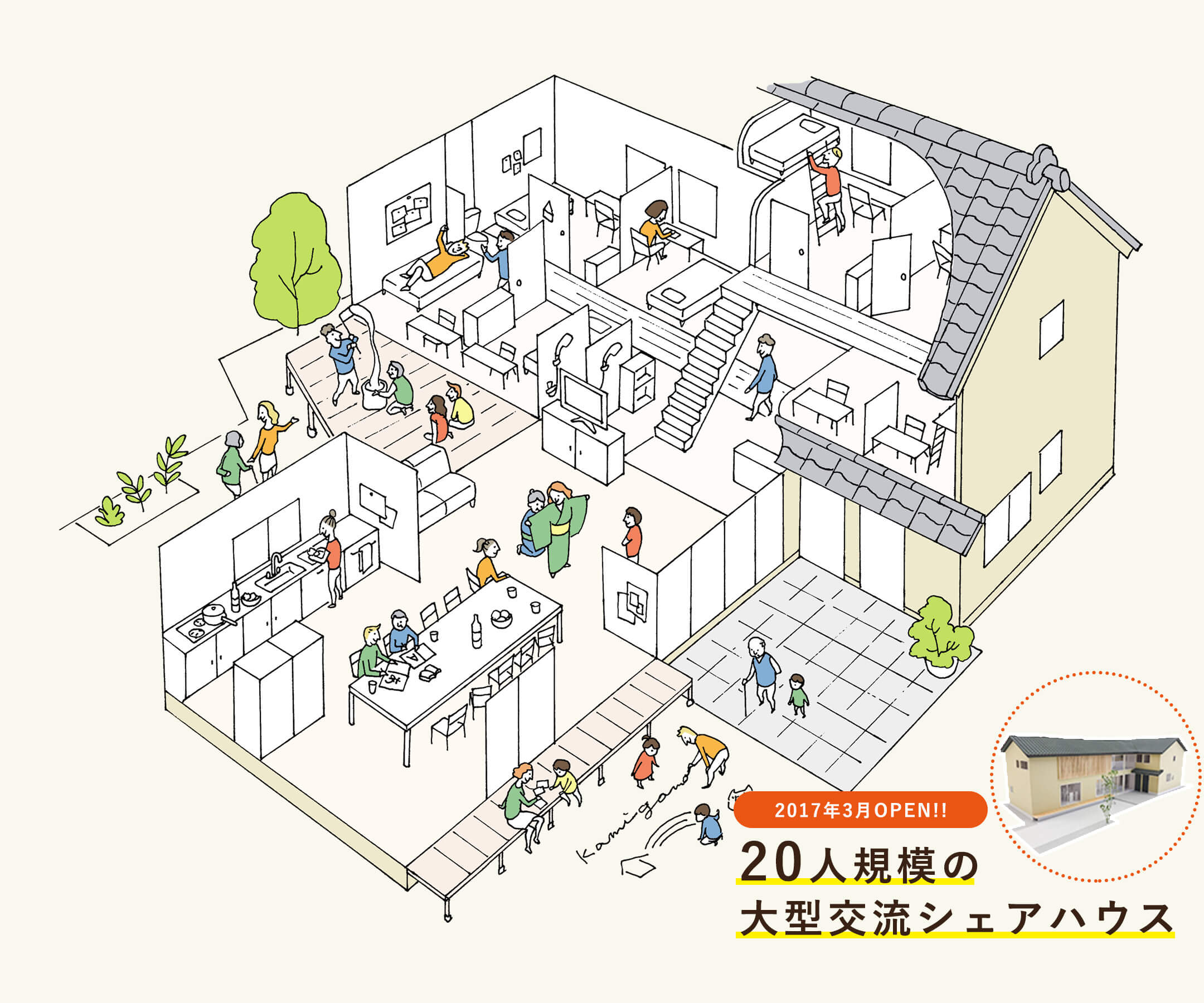 Kyoto – where tradition is still alive. Our share house in Kamigamo, Kyoto
From Kamigamo Shrine, a World Heritage site, Kamogawa River flowing by, to the Shakemachi area where the share house is located - the whole town of Kamigamo is defined by its many cultural heritages of ancient Kyoto.
Right beside 
Kamigamo Shrine
 (Kamo Wake-ikazuchi Shrine), famous for its Aoi Matsuri, one of the three major festivals in Kyoto, an international share house opens from March 2017.
<Borderless House Kyoto-kamigamo>
http://www.borderless-house-zh.com/jp/kamigamo/
3 Good Points about Kyoto-kamigamo Share House
1. A large scale share house with tenants from all kinds of backgrounds. The first 20 people large-scale share house in Kansai!
Its appeal lies especially in the traditionally Japanese outer appearance, fitting perfectly in the cityscape of Kamigamo, as well as the
70 square meter living room
 perfect for getting together with your housemates.
And if you need to get your mind off things from time to time, just take a good book and some tea to relax on the terrace.
In addition, 
all rooms on the second floor are loft-type
, giving you even more space for yourself!
2. Expand your circle of friends! A share house for both international and regional exchange
Until now, the concept of Borderless House was all about international exchange. Borderless House Kyoto-kamigamo takes this to another level by creating a concept of both 
international and regional exchange.
There are all kinds of events organized by the local neighborhood committee, sports festivals, and events collaborating with the local residents or university clubs.
Apart from international exchange, this share house is loved by the local community for its active participation in community revitalization and multi-generational exchange.
In addition, you can enjoy seasonal events such as Aoi Matsuri, one of the three major festivals in Kyoto, or the monthly market held at Kamigamo Shrine.
3. Well-featured living conditions in a beautiful townscape – the perfect location

(Photo by (c)Tomo.Yun / http://www.yunphoto.net)
Kamigamo, Kyoto – you might think it is nothing more than a sightseeing spot, with Kamigamo Shrine as its only attraction. But in reality, it is a safe and convenient area with surprisingly many university students living here.
Daily groceries can be done at a Coop supermarket and a 100 Yen Lawson store nearby, both especially popular among university students.
In addition, bakeries, and Gyoza no Ohsho (the main food provider for Kyoto's students) as well as many other bars and restaurants are in the neighborhood, so you will not have any inconveniences in daily life.

(Source: 
http://neomartvs.ldblog.jp/
)
And the best part : Kyoto's leading fashion quarter,
Kitayama
, is only 5 minutes away from the house by bicycle.
Kitayama is especially frequented by young people, for its many stylish cafes and restaurants and modern townscape, and is always in the top ranks of Kyoto's most popular quarters to live in.
Gift shops, cafes, restaurants, botanic gardens, art galleries – Kitayama is the perfect place for a fun weekend stroll!
Also, you might know 
Kawaramachi
as one of the busiest quarters in Kyoto.
From the house, you can reach Kawaramachi by bus without having to change lines!
It might take 35-40 minutes to get there, but Kamigamo Shrine Is the terminal station, enabling you to get a seat even during crowded times.
The bus stop "Kamigamo Shrine" is only 3 minutes from the house on foot.
The closest train stations are Kitaoji Station and Kitayama Station. Both can be reached within 5 minutes by bicycle!
☆Great access to several universities and major train stations☆
If you are a student, the access to your university is a big deal.
I actually took my bicycle to see how far it is…
-
Otani University
:
 8 min. by bicycle
It is right beside Kitaoji Station, so you can have a fun bike ride through the shopping street.
-
Doshisha University
: 13 min. by bicycle
Just 1.5 km further downhill from Otani University!
-
Kyoto University
: 18 min. by bicycle
Riding alongside scenic Kamogawa River while listening to some music will bring you to Aobashi Bridge in no time! From there, go further until Kamigamo-ohashi Bridge and you will find yourself on Kyoto University's Yoshida Campus.
-
Kyoto Sangyo University
:
 10 min. by shuttle bus (bus stop: 3 min. from the house)
I'm sorry… I took the bus instead… ;_;
The shuttle bus from Kamigamo Shrine to Kyoto Sangyo University is always crowded with students.
A newly constructed building, a great community and location – all combined in this share house!
Why don't you become a part of Kyoto-kamigamo share house?
Borderless House Kyoto-kamigamo Supporters
At Kyoto-kamigamo House, we are looking for people who will liven up the share house together with us, and make Kyoto-kamigamo House as well as the local area's characteristics known to a broader range of people!
<Kyoto Kamigamo Supporters>
http://www.borderless-house-zh.com/jp/kamigamo/kamigamo_support/
Why not work together with us to liven up life at Borderless House Kyoto-kamigamo?
Supporters will get certain benefits in exchange, such as a discount from the rent!
Please feel free to
inquireand and reserve
!
※10mins away from JR Kyoto station <Borderless House Kyoto-Hanazono1>
http://www.borderless-house-zh.com/jp/sharehouse/h/kyoto-hanazono1
※Tenant's voice
http://www.borderless-house-zh.com/jp/sharehouse/tokyo/tenantvoice/?limit=30