BORDERLESS HOUSE KYOTO-KURAMAGUCHI-Share House Live with Japanese
BORDERLESS HOUSE
KYOTO-KURAMAGUCHI
Kyoto周邊
Subway Karasuma Line Kuramaguchi station 15 minutes
House Type
10~14 people
Non smoking house
With theater equipment
International share house with local community. Why don't you enjoy "International community"×"Local community" life in this house ?
The international share house open in March, 2019 with the concept "living with local community".
The house are surrounded by bus stops to Shijo,Kyoto station and Emmachi. You can get easy access to main area in Kyoto!!
There are spacious entrance way, high‐ceiling-ed living room and kitchen. You can have your own time in all private rooms, and have fun time like setting weekend schedule or watching movies with housemates in living room !! We may also have small events in the spacious living room and entrance way !
In the area, there are unique public bath, renovated cafe and so on.
Enjoy "International community"×"Local community" exchange time with housemates in Kuramaguchi House !!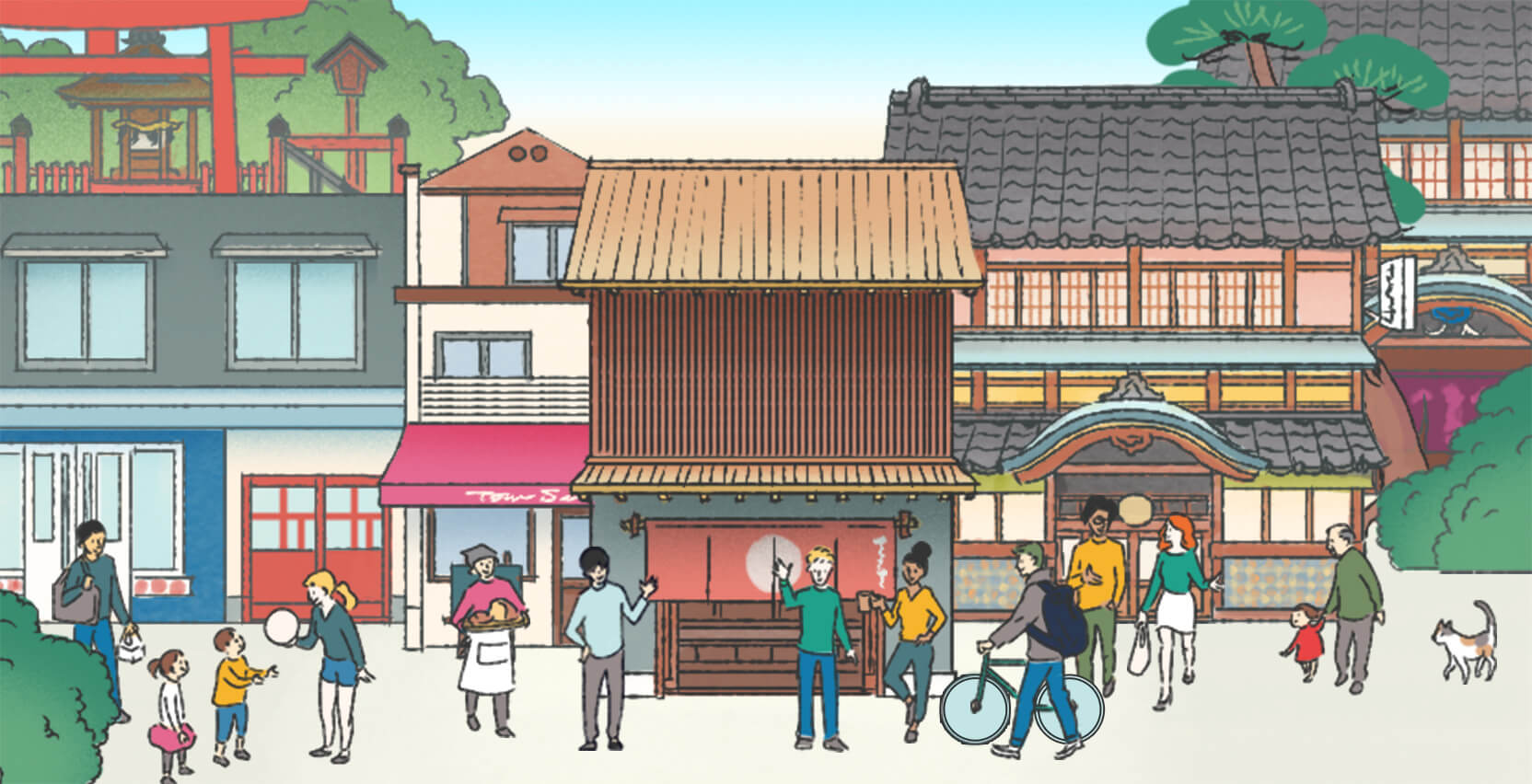 新しさと懐かしさが寄り添う鞍馬口通りに
国際交流シェアハウスが仲間入りします
文化財指定の温泉、銭湯をリノベーションしたカフェ、地元で親しまれるベーカリーなど個性豊かなお店が点在する京都・鞍馬口通りに、日本家屋の風情を残しつつ住みやすい居室を備えた新築・全室個室の国際交流シェアハウスがオープンします。
近隣のお店とのコラボレーションも企画中の、新しいワクワクの拠点となるシェアハウスです。
充実のコミュニティスペース
20畳の広々リビングでシェアメイトとの話が弾みます。玄関先には今では珍しい土間が。ちょっとした作業やお茶スペースなど、活用方法は無限大!
新築・全室個室!
歴史ある京都にありながら、中は新築で快適に。プライベートルームが確保されているので、オンオフの切り替えがしっかりできます。2Fは天窓もつき、明るさ抜群!
さらさ西陣

シェアハウスの斜め向かいにある、元銭湯をリノベーションしたゴハンと焼菓子と自家焙煎珈琲のお店。千と千尋の神隠しのような風情ある佇まいは、映画やドラマのロケ地としても利用されています。

藤森寮

古くは立命館大学の学生寮として活躍していた建物を、アトリエとショップを兼ねたものづくりの基地としてリノベーション。ガラス工芸やフェルト工芸、漆器や紙細工に竹細工など、お気に入りを見つけてみませんか?体験教室もあります。

トム・ソーヤー

老若男女に親しまれる地域のパン屋さん。ハード系からスウィーツまで約100種類のパンが並びます。真面目なおいしさと品揃え、買いやすい価格で地元で愛され続けるお店です。

船岡温泉

レトロなタイルや透かし彫りに彩られ、国の文化財にも指定されている「KING OF 銭湯」。
日本で初めて導入された電気風呂をはじめ、ジェットバス・露天風呂・くすり風呂など豊富なお風呂が揃います。

建勲神社

織田信長を祀る神社。難関突破や大願成就などの神社として信仰されています。
神社のある小高い山からは比叡山や大文字山が綺麗に見え、地元の人の憩いの場になっています。
電車で四条まで7分、京都まで11分
東西南北、アクセス自在。京都はバスが便利です。
四方をバス通りに囲まれているため、どこへ行くにも便利な立地です。
バス停まで徒歩5分、鞍馬口駅まで徒歩15分。
最近車站
Subway Karasuma Line Kuramaguchi station 15 minutes
Bus stop Horikawa-Kuramaguchi 5 minutes
Bus stop Daitokuji-mae 5 minutes
If your favorite room is not available right now, please fill out this form.You will be notified as soon as a new vacancy comes up.
手續流程 & FAQ
洽詢申請 尋找目前的空房

網路或電話進行預約/詢問洽詢申請 預約看房

物件房間確定

最快在提出入居申請的兩天後可入住。請於入居申請表當中填寫希望的入住日。
問與答
您可以在我們的辦公室或即將入居的物件內進行入居簽約

您可以不用實際看房就進行預約,最快預約申請日的2天後即可入住。
最短需住滿一個月

入居所需要的費用有哪些呢?

BORDERLESS HOUSE 日本

初期費用50,000日圓(事務手續費30,000日圓及保證金20,000日圓)、首月房租及水電光熱費必須於收到入居申請確認信後的三日營業日內付款。 假如您需要額外租借寢具組,寢具組租借費用為8,000日圓,一次性費用。(寢具組包含: 枕頭、枕頭套、床單、保潔墊、棉被、被套、毯子)

※第一個月的房租及水電費計算方式為以日計算,從入住日起計算至當月月底。
※假如您預定的房間為即日起空房,您的房租最晚會於兩周後開始起算。假如您預定的房間為某日起空房,您的房租最晚會於空房日起的兩周後開始起算。
※依實際居住時間長短,退房時會從保證金扣除「物件維護費用」5,000~10,000日圓。

BORDERLESS HOUSE 韓國

事務手續費300,000韓元以及保證金500,000韓元,合計800,000韓元的初期費用請於收到入居申請確認信後的三日內付款。
事務手續費是不會退還的,此費用為契約費,物件設備的維護費及其他我們提供房客生活支援的費用。在退租日當日會有員工去檢查您的房間,若沒有任何問題,我們會將保證金退還給您。
我們有提供寢具六件組租賃。房租以外外加60,000韓圓即可享有寢具組租賃服務第一個月的房租及水電費(從入住當天計算至當月月底)請務必於入住當天付款。

BORDERLESS HOUSE 台灣

初期費用合計6,500元,其包含事務手續費1,500元以及保證金5,000元。請於收到入居申請確認信後的兩日內付款。
※假如您預定的房間為即日起空房,您的房租最晚會於兩週後開始起算。假如您預定的房間為某日起空房,您的房租最晚會於空房日起的兩週後開始起算。
第一個月的房租及水電費(從入住當天計算至當月月底)請務必於入住當天付款。

不會說英文或當地國家的語言也沒關係嗎?

BORDERLESS HOUSE裡有很多剛開始接觸英文或當地國家語言的朋友,以及第一次出國的朋友。從國外來的朋友都是對當地文化感到興趣、或是想學當地母語的朋友居多。偶爾在需要幫助時也能得到其他當地朋友的幫忙,入住後語言能力明顯提升的房客也非常多。是個能讓你能安心入住的好地方。

我和室友們有機會能感情變好嗎?

Borderless House的特點之一就是有很多和他人交流的機會。我們的房客會互相討論及制定生活公約,像是打掃時間等等。透過這些討論及交流,讓我們的居住生活環境變得更舒適美好。
即使入住後有任何問題也請歡迎隨時和我們聯絡。
Recommended Houses around this area