HOUSE EXCHANGE Enjoy winter in Korea!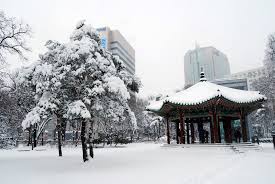 Hello! This is Borderless house! In this winter, how about going to Korea by Free House Exchange Program? You can stay for free and meet friendly house mates! Let's enjoy Korean culture and fantastic places!
The watch-Night bell ( 24:00 31st Dec ~ 1st Jan )
Wish you a Happy New Year in advance! The ringing of the bell means a new year has just started and people make up their mind for the new year while listening to the sound of the bell. A lot of people gather by Bosingak bell where is near Jonggak station to experience this on New Year's Day. Although it would be a first time to see others, they say 'Happy New year' to each other and make some goals for the new year to make their lives better. How about saying Good Bye and Hello to New year in Korea through House Exchange Program?
Kimjang (Making Kimchi, end of Nov ~ early Feb)
Kimchi, well-known worldwide, is the most representative of Korea fermented food! Kimjang means making Kimchi in Korean word and people do it to eat throughout the winter. Seoul has held several Kimjang events every year to tell the world about the benefits of Kimchi. You can have some Bossam and Suyuk which are boiled pork with Kimch made by you through this event! There is no doubt that Kimchi with boiled pork is the one of the most popular in Korea. Why don't you try making Kimchi and letting the world know it with House Exchange Program?
Seoul Plaza Ice Rink (Middle of Dec ~ Middle of February)
Stop skating in an indoor ice rink! Do Skate in an outdoor ice rink with fun in Central Seoul! Enjoy ice Skating which is considered the centerpiece of the Olympics in Central Seoul. Seoul Plaza located in front of Seoul City Hall offers the outdoor ice rink for all people every year. Although this offer is for a limited period only, but it makes all people spend their time more profitably. We hope you can have this great experience through House Exchange Program. We Hope many our Tenants TRY to join House Exchange Program and have good Experiences. We are really looking forward to seeing you in every country! Thank you.