We held the international exchange party and cultural study workshop in Osaka!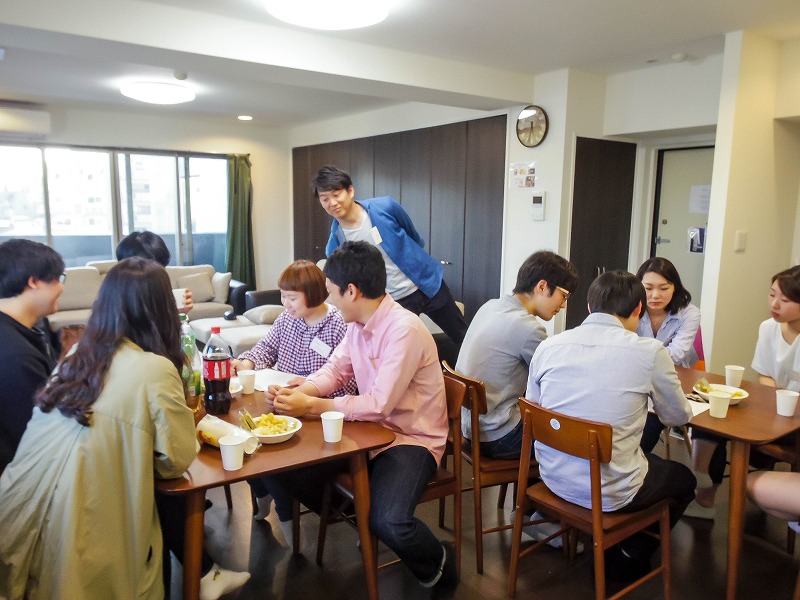 Hello, this is an event report from Borderless House Kansai!
This time we had a bit special event at Borderless House Osaka Tamastukuri on the last day of Golden Week! There were 2 parts on this event !!
1st. The workshop with Korean tenants and Japanese college students who have Korean background
The theme of the study group is 
"the difference between Japan society and Korean society"
Both countries are seem to be similar, but there are a lot of different points!
Borderless House is a share house where people with various backgrounds live together, cross-border encounter, and can touch a lot of new values. That is a different point between Borderless House and other share house.
Of course not only for tenants, but also for those who do not yet know the world view of Borderless House, 
we would like them to 
meet new people through the Borderless House
and 
get
 a 
chance
 to have a wider world view!
That is the reason why we
 decided to hold 
the
 study group by
 Korean tenants and
Japanese 
college
 students 
who have Korean background.
Since it was the first time to be held this event, we had a discussion with a casual agenda such as 'the difference of delivery service','the difference of living cost' .
Even if it was a short time and some of them got a little nervous, everyone actively participates in the discussion in both language Japanese and Korean.
2nd. Borderless House Kansai International Party
We also held a party with 
Borderless House Osaka-Tamastukuri
, 
Borderless House Osaka-Tsuruhashi 1
, 
Borderless House Osaka-Toyonaka 1
 tenants!
Everyone enjoyed the conversation while having a delicious meal with tenants of other share houses.
From everyone who participated in the party of Borderless House for the first time, I could get lots of nice comments below!
'I thought I understand a little about the differences between the lives of Japan and Korea but I was able to learn lots of things for myself that was surprisingly different.'
'Occasionally, the other party's words were hard to hear or my words did not pass well, but I think I understood most of the content by explaining with letters and gestures. '
'Since there are a lot of people from various nationalities, I felt like I was not in Japan. I thought that it was purely wonderful that the people were having a meal together in one place. It was a lot of fun for me! '
'Since I have few opportunities to speak with people from various countries, that kind of environment is good chance to study myself.'
As a Borderless house, we are going to make many new encounters and exchange cultures for our tenants.
We also would like to make opportunities to know about us for those of you who do not yet know Borderless House or are interested in our house, but can not take a step forward!
Borderless House in Kansai area, vacancy is just a few left! 
Why don't you join the Borderless House and enjoy cross-border encounter and intercultural exchanges?
Borderless House KANSAI area
-KOBE-
BORDERLESS HOUSE Kobe-Motomachi
http://www.borderless-house-zh.com/jp/sharehouse/h/kobe-motomachi/
- OSAKA -
''BORDERLESS HOUSE Osaka-Tsuruhashi1''
http://www.borderless-house-zh.com/jp/sharehouse/h/tsuruhashi1/
''BORDERLESS HOUSE Osaka-Toyonaka1''
http://www.borderless-house-zh.com/jp/sharehouse/h/toyonaka1
''BORDERLESS HOUSE Osaka-Tamatsukuri''
http://www.borderless-house-zh.com/jp/sharehouse/h/tamatsukuri/
- KYOTO -
''BORDERLESS HOUSE Kyoto-Hanazono1''
http://www.borderless-house-zh.com/jp/sharehouse/h/kyoto-hanazono1/
''BORDERLESS HOUSE Kyoto-Kamigamo''
http://www.borderless-house-zh.com/jp/sharehouse/h/kamigamo/