International Bowling Competition! with tenants from each Kansai share houses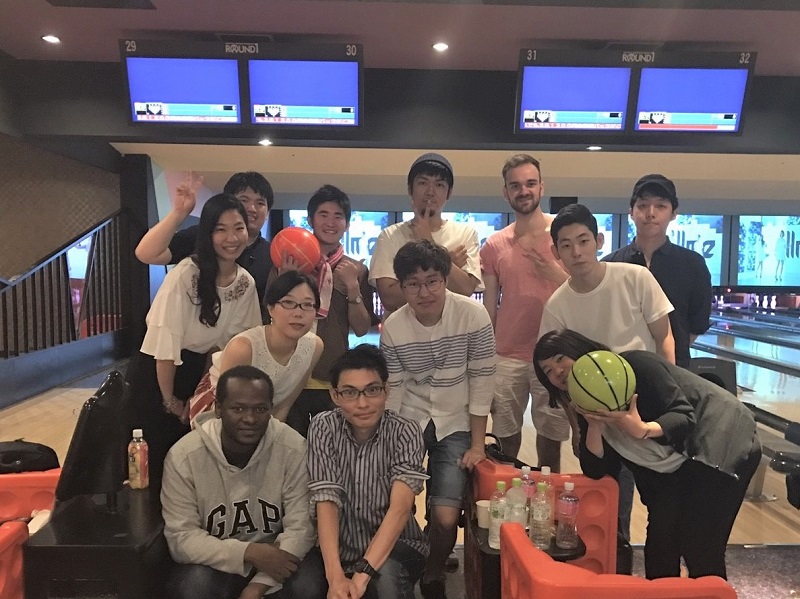 Hello, this is Yuuka from Borderless House!
We listened to the voice that tenants want to interact with other tenants living in other houses so we held a team competing bowling competition in Osaka on July 9th!
Hello, Annyeonghaseyo, Bonjour, multiple languages
On that day, tenants from various countries such as Japan, Korea, Belgium, Netherlands,etc from a total of 4 houses gathered! (Kyoto Kamigamo House, Osaka Tamatsukuri House, Osaka Tsuruhashi House, Osaka Toyonaka House.)
Borderless House is a share house based on international exchange concept. As people with various backgrounds live together, they can learn each languages everyday and enjoy exchange culture while making their own cuisines.
It is the biggest feature of the house that you can enjoy intercultural exchanges!
Borderless House-specific! International team name!
We divided the members into three teams, and they thought about the team name!
"Team ☆ Turkey!"
 It is expressed that they want to take the turkey and win!
"Team ☆ Yotchon!"
   ....?
"Team ☆ Pen Pen!"
   ....? ?There are team names that we can not hear normally...
I heard the meaning from each team, 'Yotchon' is Korean and means 'coming from behind to win'.
And "Pen Pen!", it was said that it was decided by a tenant from the Netherlands who answered the question;"what is your favorite word in Japanese?".There is a present on the winning team and the lowest team have to do penalty game, so everyone is motivated for victory!
Heat up much
It was the start of bowling!However, if it only competes for points, it will be a competition only for ability. If someone is a good bowler, you can only pray for a gutter...Therefore, we set up a special rule this time!that was.....
"Prohibited use of dominant hand!"
stick! Those who have passed this must play with non-dominant hand.
Those who are handed down were disappointed...
those who hand it was grinning♪
It is available for the other team up to twice per game for each team.
Throwing a bowl at a person who is not a dominant hand will not be able to make a good performance at all, such as becoming the gutter!(It is as expected!)Everyone enjoyed the bowling tournament while using the stick!
A wonderful striker - ー ー ー ー ー ー ー ー ー!
There are also tenants who get prizes!They also enjoyed talking to each other during a little break between the games.
And there was a team who was thinking as to who would use that stick the next while laughing grinningly.
How! There were also strong men who took 
the turkey twice!
All of the team members were excited!Every team aimed hard to win to the end and did best!
Which team won? Result announcement!
After the heated game, the winner was ...
"Team ☆ Yotchon"
The score of the first one was losing to the other team, but like the name of the team, they made a comeback to win!
Congratulations!
On the other hand, the lowest place is .....
Team ☆ Pen Pen!
Then, please have wasabi(Japanese horseradish) puffed creams as a penalty !
I'm sorry, but I can not show you their reaction after eating.....
Turning over a new leaf and everyone took a group picture together at the end!
Even after the bowling, everyone went to eat out and it seemed to have continued interaction!
And I have a feeling that fun exchanges are going to happen in the future!
It is because the tenants were talking about planning to have a barbecue together in this summer.Thank you very much for everyone!!
Availability of share house room
Currently in the Borderless House Kansai, there are houses from more than 
20 large share houses
 to 
8 people share houses
, especially for people who are concerned about share house life for the first time, we recommend a small large share house that you can easily open up to tenants.Although it is a little left, If you are interested in our share house, please visit our website below!
<Borderless House Osaka Toyonaka>
http://www.borderless-house-zh.com/jp/sharehouse/h/toyonaka1/
This house has a kitchen facing the living room and tenants can talk about daily life events each other there! (There are french pancake, Korean cuisine, Okonomiyaki party etc. Currently there are many interactions through various countries' food!)
<Borderless House Osaka Tsuruhashi>
http://www.borderless-house-zh.com/jp/sharehouse/h/tsuruhashi1/
Osaka Tsuruhashi House where is good access anywhere in Osaka and you can enjoy going out together with tenants such as shopping, restaurants...etc
(Currently there is also exchange through sports!)
<Borderless House Kobe-Motomachi>
http://www.borderless-house-zh.com/jp/sharehouse/h/kobe-motomachi
A new open share house which is located in just 4-minute walk from JR/ Hanshin Motomachi station. This house is for 13 people and has a concept "International Exchange ×  Agriculture".